Want to update your wardrobe, but not sure where to start? Need help figuring out which autumn trends are for you? Look no further! Some Like it Fashion is here to help! This questionnaire will help you identify your key looks for the season; because as we all know the many complex problems of the universe can be solved with a simple and clichéd survey:

Which of the following quotes do you most identify with?

Work is like a sport. It's hard and we all want to win.

(Harold Tillman)

Imagine no possessions, I wonder if you can, No need for greed or hunger, A brotherhood of man.

(John Lennon)

Her children arise up, and call her blessed; her husband also, and he praiseth her. Many daughters have done virtuously, but thou excellest them all.

(Proverbs 31)

I never leave underwear at a guys place because I never see it again.

(Samantha Jones, SATC)

I fear being a completely acceptable sheep in society

(Marylin Manson)
What is your favourite colour?
The colour of money.
Brown, the shade of the earth.
Traditional warm shades of red and green.
Anything that brings attention to my tits.
Black. Dark black.
What do you have on your i-pod?
A mixture of stuff. Classical, power ballads, soft rock. I'm very eclectic. And clever.
I-pod? Dude, you've gotta get it on vinyl!
What's an i-pod? Do you mean music? I have a Cliff Richard album on cassette. Mistletoe and Wine is a tuuuuune!
Cheesey pop, stuff I can reaaaaally dance to. Britney, Xtina, Girls aloud, Beyonce, they're all on there.
Bauhaus, The Cure, Siouxsie and the Banshees. I like bands that have black album covers.
Eye of the tiger, Survivor.
Born to be wild, Steppen Wolf
A spoonful of sugar, Mary Poppins
I touch myself, The Divinyls
Ignore the machine, Alien Sex Fiend

What is your favourite part of the body?
My mind. The body is over sexualised by the media. I want to be appreciated for my intelligence and wit. There is more to me than my breasts.
Whoaaah, heavy question dude. I guess my hands. Without them, how would I smoke?
The womb. It gives the greatest gift. That of life.
The schlong. Yum.
Hair. It can be died black.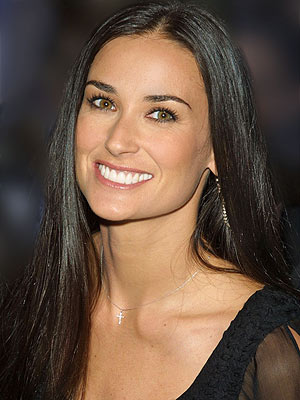 If you had to watch a Demi Moore film ,which would you chose?
G.I. Jane
One Crazy Summer
Ghost
Disclosure
The Seventh Sign. (It is dark film. Dark is like black.)

If you were an animal you'd be...
A crocodile. They're adaptable survivors. They see what they want and they get it.
A bird. They are free of the politics of our society. They can fly and roam as they please.
A dog. They are loyal, loving and reliable. Just like me.
A monkey. They can masturbate in public and nobody judges them.
A bat. They are black and they like blackness.
A spectacled bear. I want to be taken seriously.
A sloth. Chillax, man.
A polar bear. They are the cutest by far.
A panda. When I have sex it's newsworthy.
An American black bear. Because they're black.
*Drumroll*
Prepare to be
dazzled
(and a little freaked out at how spookily accurate I am)
. If you answered mostly:
1:
Ambitious, driven and tenacious. That's you that is. You work hard and
you
are going places. Daaaam straight. Your wardrobe reflects your desire to be taken seriously by your peers. You want to look successful
yet
intimidating. And
riiiiich
. The
super-structured tailoring
and
sculptural
trends are perfect for you. Look to
YSL
,
Balenciaga
and
Jil Sander
for inspiration.
2:
Although you may not know it yet, deep, deep, deep,
deep
down you are a kaftan wearing, incense lighting, peace loving, hairy armpitted, stinky hippy. Yup. Embrace your inner tree hugger this season with
Gucci
,
Hermes
and
Dries Van Noten
. They will let you indulge your wandering Indian spirit with their interpretations of
folk
(fringing, paisley and embroidery) and
tunics and trousers
trends.
3:
Hear that? Listen quietly. Yes,
that
. It´s your ovaries throbbing. You see family is your main focus. Either the one you have or the desire in your womb to have one
ASAP
. Clothes are secondary to this (a very important secondary mind you). This season you´ll need washable items in colours and prints that don't show chocolate hand prints and baby vomit.
Tartan
is ideal for this, as is the
heritage
trend with its practical fabrics.
Dolce and Gabanna
,
Vivienne Westwood
and
Paul Smith
should be your starting points.
4:
Oh you doity, doity, doity, dooooog. You loved to get dressed up, for well, any occasion. But not to the detriment of your body mind you (you side stepped that whole sack dress debacle
unlike
the rest of us). You'll love this season's
peek-a-boo
(sheer fabrics such as chiffons) and
tomato red
trends. They're ideal for the gorgeous exhibitionist in you. Check out
Dior
,
Giles
and
La Perla
.
5:
Black. You
love
it. You wear it not because you feel safe in it like most people, you choose black because you feel it differentiates you from the masses. You wear it with an edge. If you weren't a goth a school you almost
certainly
secretly fancied one. Channel
your black passion using the
l
ace
and
soft goth
trends this season.
Prada
,
Givency
and
Chanel
will be right up your dark street.
Edith